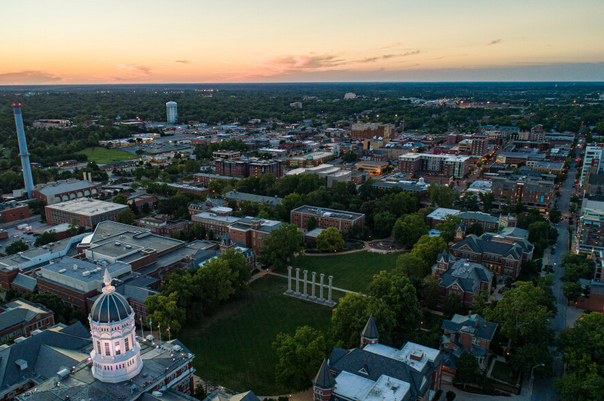 CoMo is where the heart is 
Columbia, MO, combines small-town comforts, community spirit and low cost of living with culture, activities and resources. Our city of about 100,000 is located between Missouri's largest cities, Kansas City and St. Louis. 
Money magazine, Fortune magazine, U.S. News & World Report, Men's Journal, MSN.com and other news entities have named Columbia one of the best places to live in the U.S. because of our high quality of life. The American Institute for Economic Research ranked Columbia among the nation's top 10 college towns. Read more about our community in MIZZOU magazine.
In the middle of the middle...
Columbia offers
Affordability
Columbia proves to be less expensive than the national cost of living average, making it easy to find safe and comfortable accommodations in any price range. Transportation to campus is available through the public bus system and shuttle services.
Diversity
Columbia values and celebrates our diverse population and attracts residents from all over the world. The city is home to more than 100 places of worship, including a synagogue and an Islamic center, and counts many international grocery stores and restaurants among local businesses.
Theatre & music
Multiple indoor and outdoor venues hosting live performances.
Walk & bike
Walking trails throughout the city and bicycle-friendly campus and community.
Places of worship
Welcoming communities with places of worship for all major religions.
Movie theaters
Screens showing popular, documentary and foreign films.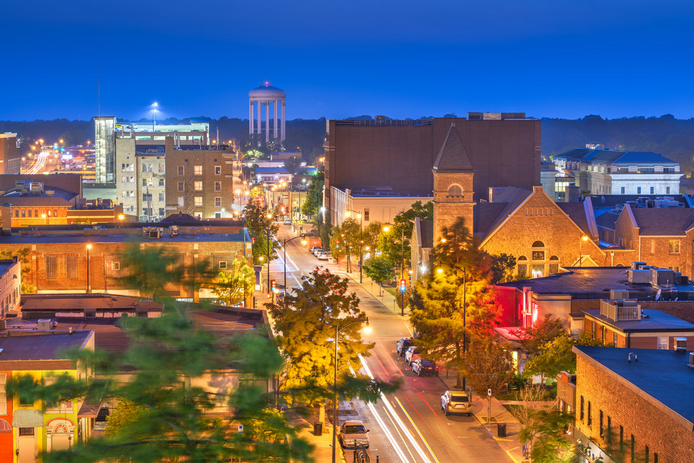 Downtown 
Columbia's historic downtown district is packed with shops and entertainment. For more than three decades, The Blue Note has attracted top musicians of all genres, from indie-rock to old-school blues, and venues such as Rose Music Hall keep live music thriving downtown. Ragtag Cinema shows independent and international films in a hipster-friendly setting. The 1938-constructed Missouri Theatre, managed by the University of Missouri, recently was restored to its original grandeur and now attracts major entertainers as well as community performers. Columbia's local art scene thrives, with venues including Orr Street Studios, Sager Braudis Gallery, Artlandish Gallery, Bluestem Missouri Crafts, the Columbia Art League and a burgeoning North Village Arts District.
Want to go shopping? You're in luck! The District is packed with designer boutiques, shoe stores, jewelers, florists, book shops, sweets shops and purveyors of eco-friendly products and novelty items. Whether you want to show your school spirit with some black and gold gear, show your sense of style with cool vintage duds or show someone special how much you care, Columbia's stores have you covered.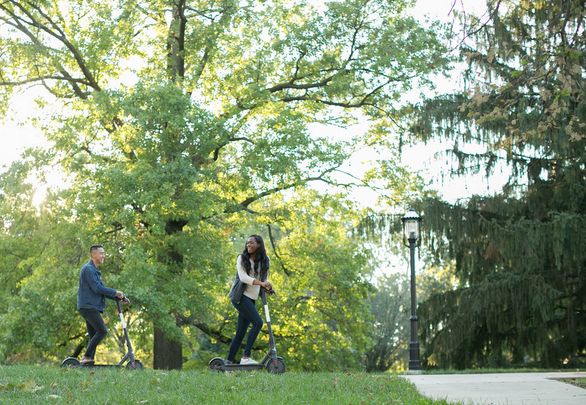 The great outdoors
Columbia boasts multiple city parks as well as Rock Bridge State Park, Stephens Lake and the city's Activity and Recreation Center. We have caves, lakes, streams and cliffs for outdoor adventurers.
Columbia is an increasingly bicycle-friendly community, with a city program to encourage cycling, walking and public transportation. The MKT Trail takes cyclists and hikers all through Columbia and links to the 225-mile Katy Trail, which stretches across the state. 
Festivals and events 
Columbia hosts more than a dozen annual festivals, including the internationally acclaimed True/False Film Festival that attracts documentary filmmakers from throughout the world and the New York Times-touted Roots N Blues N BBQ Festival, which draws top-named acts and crowds of 100,000 people. We have art fairs, parades, pub crawls, sidewalk sales and outdoor concerts in the street. A quarterly ARTrageous Fridays gallery crawl unites artists, musicians, chefs and the community for a night of downtown revelry every season. And each spring we celebrate Earth Day with a party in Peace Park.
Schools 
Columbia is home to nationally renowned public schools, including three top-ranked high schools. It also supports other institutes of higher education, including Columbia College, which is ranked among "America's Best Colleges" by U.S. News & World Report, and Stephens College, a women's college known for its fashion, film and fine arts.
Life-long education is a shared community value in Columbia. From preschool through retirement, the campus and city offer diverse, high-quality educational options. Columbia offers a public school system that annually produces some of the largest numbers of national merit scholars in the state, 18 parochial and private schools, four special-needs training facilities, an adult education center and a lifelong learning institute.